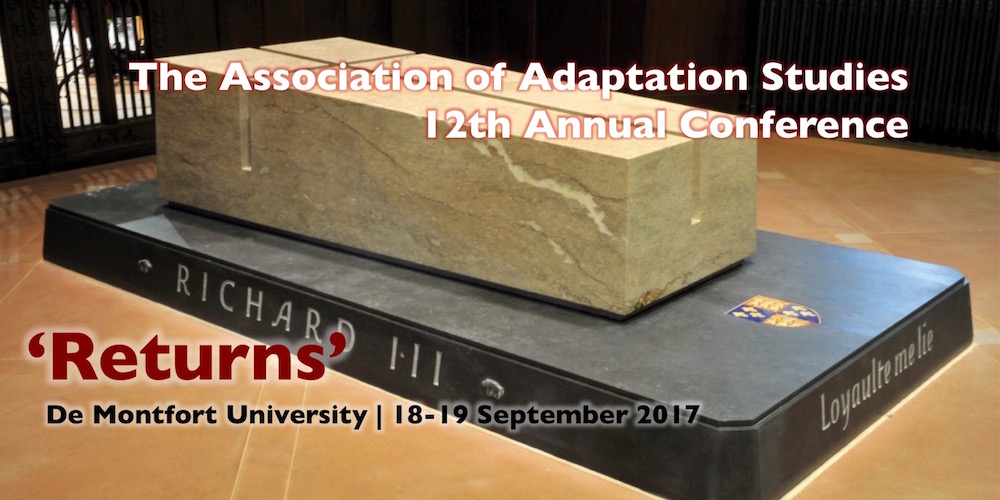 The Association of Adaptation Studies 12th Annual Conference, De Montfort University, Leicester, 18-19 September, 2017
'RETURNS'
The Association of Adaptation Studies Annual Conference will return to its roots in the Centre for Adaptations, De Montfort University, Leicester, where it hosted the Association's inaugural conference. The focus will be on 'returns' and, as Linda Hutcheon has argued, 'return' does not necessarily mean 'regression'. Topics are invited on all aspects of adaptations and those with an emphasis on homecomings, returns, remakes and re-fashioning will be especially welcome.
The conference will take place in the newly refurbished De Montfort University campus in he heart of historic Leicester with opportunities to visit the Richard III Visitor Centre, Leicester City Football Club and the Centre for Adaptations' Andrew Davies Archive.
Download the poster for the conference here.
REGISTRATION
Registration is now open for the conference (Full: £100, Concessions: £80.00). The deadline for registration is Friday 30th June 2017. Delegates can register their details and pay by clicking the following:
DMU Conference Registration link
In order to attend the conference, you must be a member of the Association of Adaptation Studies. If you are not presently a member, you can join at:
http://www.adaptation.uk.com/join-the-association/
If you have any queries about your membership status, please contact Anna Blackwell (ablackwell@dmu.ac.uk). Please note, that when paying for the dinner and the membership subscription, use an email address that you would like to be contacted on.
CONFERENCE DINNER
The conference dinner will be hosted a short walk away from the conference venue at the Leicester City Football 'Legends Lounge' at 7pm on Monday 18th September 2017. The cost for the three-course conference dinner is £50.00 and payment must be made by 1st August, 2017. If you wish to attend please register using the Paypal link below, noting any special dietary requirements in the text box:
ACCOMMODATION
There is plenty of accommodation near the University. We recommend the following:
Hotel Maiyango
Holiday Inn
Holiday Inn Express
Travel Lodge
Ramada Encore
Mercure Leicester the Grand Hotel
Premier Inn
The  Belmont
Hotel Ibis
The University has discounted rates with The Belmont Hotel and Hotel Maiyango which can be booked by asking for the DMU corporate rate. The recommended university taxis suppliers are ABC – 0116 2555111 and A Zoom taxis – 0116 251 2513