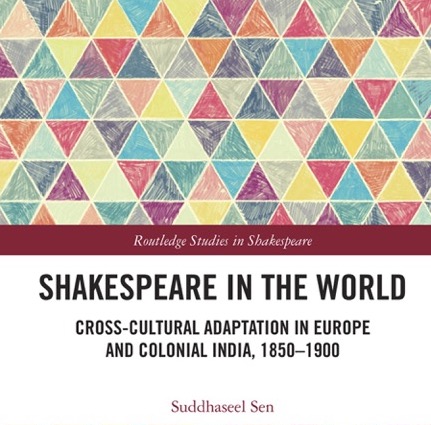 Publication announcement:
Shakespeare in the World: Cross-Cultural Adaptation in Europe and Colonial India, 1850-1900 by Suddhaseel Sen
Shakespeare in the World traces the reception histories and adaptations of Shakespeare in the
nineteenth century, when his works became well-known to non-Anglophone communities in
both Europe and colonial India. Sen provides thorough examinations of nineteenth-century
theatrical, operatic, novelistic, and prose adaptations that are still read and performed, to argue
that, crucial to the transmission and appeal of Shakespeare's plays were the adaptations they
generated in a wide range of media. These adaptations, in turn, made the absorption of the plays
into different "national" cultural traditions possible, contributing to the development of
"nationalist cosmopolitanisms" in the receiving cultures. Sen challenges the customary reading
of Shakespeare reception in terms of "hegemony" and "mimicry," showing instead important
parallels in the practices of Shakespeare adaptation in Europe and colonial India. Shakespeare in
the World strikes a fine balance between the Bard's iconicity and his colonial and post-colonial
afterlives, and is an important contribution to Shakespeare studies.
Bio: Suddhaseel Sen is Associate Professor of English in the Department of Humanities and Social
Sciences at the Indian Institute of Technology Bombay, India. He holds a PhD in English and
South Asian Studies from the University of Toronto and a second PhD in Musicology from
Stanford University. He has been a Research Fellow for the Balzan Research Project, Towards a
Global History of Music, under the directorship of Professor Reinhard Strohm. His publications
include articles on Indian and European adaptations of Shakespeare; the music of Rabindranath
Tagore and settings of his poems by Western composers; Richard Wagner and German
Orientalism; the Bengali poet Michael Madhusudan Datta; and cross-cultural exchanges between
Tagore and British musicians Maud MacCarthy and John Foulds. Email: suddhaseel@iitb.ac.in